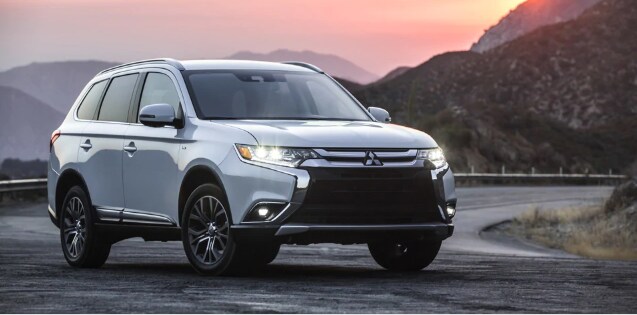 2018 Outlander is new and improved
Drivers in Ohio expect more from an SUV, and the 2018 Mitsubishi Outlander delivers the style, performance, and features you want. The Outlander is known for being one of the few compact SUV that provides three rows of seats to accommodate seven passengers. When you need to take the whole family, there is plenty of room but when you if you have shorter trips with fewer passengers, you're drive is more economical.
The 2018 Outlander has a 5 Star Safety Rating.  In fact the Touring Package Outlander boasts a 5+ Safety Rating.  The 2018 Outlander comes with a larger touchscreen as a standard option and a rear-view camera as well. New options are smartphone apps, surround view camera system, and heated steering wheel. Also important is available all-wheel drive in the base trim.
Sims Mitsubishi wants to show you the new 2018 Outlander, and we know you will agree it's a great vehicle for any size family. Contact us today and let us show you why.

What's The Difference Between The Outlander And Outlander Sport?

Can't decide which Outlander SUV suits you best? We recommend taking a look at exactly how the Outlander and Outlander Sport match up, along with several unique features of each model. Let's look at all-wheel drive equipped Outlander and Outlander Sport models.
The first key difference between the Outlander and Outlander Sport is sizing. The Outlander is a full-size SUV offering third row seating, while the Outlander Sport is a more compact SUV with seating for five passengers. In this comparison, we'll look at the Outlander SE and the Outlander Sport SE. As you can see below, the Outlander has slightly higher fuel consumption, horsepower, seating capacity, and interior volume. For growing families and those with active lifestyles, the Mitsubishi Outlander continues to be an excellent choice. The Outlander Sport, however, offers compact size for nimble handling on busy city streets while still having the ability to load up your gear for a weekend getaway.
| | | |
| --- | --- | --- |
| Base Price MSRP | $26,795 | $24,395 |
| Combined Fuel Economy (City/Hwy) | 25/30/27 MPG | 23/29/25 MPG |
| Fuel Economy (City/Hwy/Combined) | 2.4L Inline 4-Cylinder with 166 HP | 2.4L Inline 4-Cylinder with 168 HP |
| Engine and Horsepower | 2.4L Inline 4-Cylinder with 166 HP | 2.4L Inline 4-Cylinder with 168 HP |
| Seating Capacity | 7 | 5 |
| Towing Capacity (lbs) | 1500 | Not Recommended |
| Power Sunroof/Moonroof | Optional | Not Available |
| Interior Volume (Cu. Ft.) | 128.2 | 97.5 |
Incentives
Sorry, no offers available at this time. Please check back later!